Have you heard of
Forever and a Day
!? If you haven't, you don't know what you're missing. I absolutely love her products!!! She has something for boys, girls and women!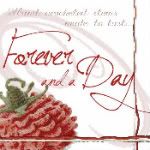 For this event she offered to make me some items for a review. I gave her some choices of what I liked from her site that I didn't have already, and she sent me this GORGEOUS
Heirloom S
et. I about cried when I saw it!
GORGEOUS, EXQUISITE WORK!
Then I put this set with the blessing dress I found and tears really did come to my eyes as I tried to imagine my baby girl in this beautiful outfit. I am so grateful.
She also sent me this fun Cupcake
Hat
so I'm already starting to be prepared for this baby girl's first birthday and she isn't even here yet! =D She too matched colors I wanted perfectly for this!
One of my favorite items from her are her Brimmed Hats. My son has two and she had a sale on some of them and I bought 3 for my baby girl not too long ago!
I can't believe this is my son almost a year ago. He's grown up so fast!
She has tons of new
hat styles
too! Go check them out and let me know what some of your favorite items of hers are.
Forever and a Day is so great to work with too. You'll be so happy with your purchase from her!