With being sick with nastiness for almost 4 weeks (I'm pregnant so it took a while to get rid of), I've have been way behind on everything in life. I've been better for almost 2 weeks now and I've been able to keep up with the laundry and dishes pretty well again. These last couple days, I've been able to finish quite a few crafts and other projects.
Rosette Flower Headbands
for friends and Handmade Pay it Forward
Rosette Frame
for UCreate's Challenge and Handmade Pay it Forward
Link up things you've finished on your To-do List over at Crystal's Craft Spot!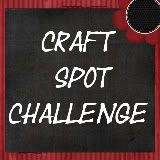 Still to do in Near Future like by the end of this week!
Still to do before Baby Girl comes in April
Son's Car Mat - need some more funds and a lot of time for this
Peg Board/Coat Rack
Extra Bow Holder - someone is making one for me, but I think I might need 2 already! =D
What's on your To Do List?