Saw this on Beautiful Mess, but you can go link up with Mama M at My Little Life or scroll down to the bottom of my post and see how to do Blog Hop.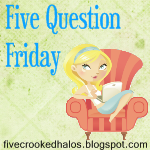 1. Would you ever vacation alone?
No way! Maybe if I was on some "Discover Myself" Journey - maybe. I like having alone time or go out for the day alone, but I couldn't do a whole vacation...I feel too weird.
2. Do you go the speed limit?
exactly-no. I usually go about 5 over on
normal weather days
in residential areas unless it's a school zone. If I was on a Chicago expressway, at least 10 over is the rule there! Out here in Idaho, we tried to do that on the highway - nope hubby got pulled over. Oops. So it's 5 over while we're in Idaho. I guess I go under the speed limit when I don't know where I am too.
3. Why did you start blogging/following blogs?
Started blogging to keep a better journal. I love details - but I don't have time to write all my details from my day in my journal, but blogging lets you include pictures! Pictures can show a lot of details so I can still look back at the picture and my words and remember the day.
I started following more people besides close friends when I started making
Scrappy Gifts
more of a business. I like knowing who my fans/followers are that way I can better serve their needs. Then I started to find more Mommy Blogs - I need all the help I can get and it's so wonderful to relate to other moms, knowing I'm not the only one going through hard days. Plus there's a wealth of information about crafts and being frugal that are so helpful during these hard economic times.
4. Where do you shop for yourself?
Mostly Kohls and Old Navy - I like their Online Shopping and ways they do returns (we don't have good stores where I live so we have to travel 30+ minutes to get to good stores). Unfortunately Kohls no longer has the jeans I like: L.E.I. Walmart has them now, but most are too teenager. So I need to find
a new brand of jeans - help please!
5. What was the song that you danced your first dance with your spouse to at your wedding...or...what song would you like your first dance to be to?
Well at our wedding we danced to "You're the Inspiration" by Chicago...my husband doesn't really like many slow songs. I would have preferred "Hanging by a Moment" by Lifehouse - my all time favorite song. Our first dance ever that my husband and I danced to was when I was 15 - "God Must have Spent a Little More Time on You" by N'Sync. Yup I've known my husband for that long...I had to convince him to like him - it paid off eventually...5 years later. =D