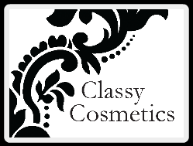 Classy Cosmetics offers tutorials and reviews on make-up and even some fashion! She's having her
100th follower Giveaway.
All you have to do is become a follower and let her know that me, Scrappy Gifts sent you!
Then complete other entries too!
Her giveaway includes all these Fabulous items!
- MAC Strobe Cream (trial size)
- A custom accessory piece by Adelyn Shop Designs
- Delicious chocolate Lindon truffles
- A Maxine's Mop brush (comparable to MAC #239)
- Nicole Miller Bronzer
- Gwen Stefani (LOVE HER!!!!) L.A.M.B fragrance (trial size)
- The Brush Gaurd (includes 5 various sizes!!!)
- Lash Blast Mascara
- A fabulous Lancome bag to put it all in =)
My favorite post is her tutorial on
Smokey Grey and Black Eyes
.
I have to try that sometime.