When I thought about Mother's Day coming up and with my blog being called Crafty
Mommy
Diva, I wanted to do posts about being a mom too. I'm still so new at being a mom that I thought what a great way to get ideas, support and share joys with other moms. To honor Mother's Day this year, I've started my first Mommy Mondays.
You can leave a comment or you can leave a link to your very own Mommy Monday post.
(I'll be getting a Mommy Mondays button in the near future.)
Share what you did for Mother's Day: for your own mom, MILs, or for you.
I called both my mom and MIL. Still working on making some photo books for them, but still need pictures.
For me, my husband gave me a card which our son also wrote in (he's 17 mo.) He helped take care of our sick son. He watched our son so I could teach in church. I received some chocolates at church too.
Simple acts of appreciation mean so much.
~~~~~~~~~~~~~~~~~~~~~~~~~~
Then to participate in Mama M's last day of her
Mother's Day Mania
, I'm writing a letter to my 17 mo. old son. (ended Sunday - Mother's Day)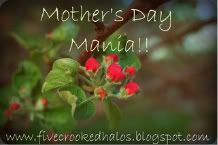 Dear James,
Where to begin? I hope you know how much I love you! You are my first and only child right now. This is my 2nd Mother's Day. Thank you so much for sleeping this year because last year you did not sleep well at all making mommy very sad. This year you decided to get sick on Saturday night with a 102.6 temperature. You were fine and then you started shaking/shivering at the store. By the time we came back home, you were terribly hot! Couldn't find any of our thermometers, so Daddy was nice enough to buy this cool one that changed colors. Green-normal, Yellow-slight temp., Red-bad temp! Well you were easily in the red. You ate very little, but you easily laid out by the TV with me and fell asleep in and out.
Then you had trouble staying asleep so we moved you back to your crib where you slept a couple hours and then woke up. Daddy was so nice to put you back to sleep so I could still sleep. Thankfully you stayed asleep until about 8am, but with nice yucky green boogers covering your one nostril. Cleaned you up and had breakfast. You actually played and made it through sacrament meeting at church. Daddy took you home, so Mommy could teach Primary. You apparently missed me during the last half hour of church because you dragged around my purple coat. Now you're asleep again getting all the rest you can so we can talk on the phone to your Uncle Conner who is serving a mission in Mexico.
Today could have been a lot tougher if you were younger, but you sure have taught me a lot especially since last Mother's Day. Being a mother is hard work, way harder than being a teacher or day care provider. I thought I knew it all since I worked in day care and became a teacher, but being a mom is a full-time job 24/7. I also learned that it definitely is the best job in the world. I love being your mom. I love watching you grow. You have learned so many things so fast: sitting up at 5 months, crawling at 6 months, walking at 10 months, etc. Now you're learning to say so many words and you're climbing all the time. Climbing into your high chair has been pretty helpful though =D. Pretty soon you'll be talking all the time, asking me why about everything. You'll learn to read and write. You'll go to school. Get baptized. Make friends, drive, date, graduate high school, go on a mission, get married, graduate college and have kids of your own. It will go by way too fast I'm sure.
I hope your dad and I can teach you the Gospel, to pray, read your scriptures, go to church, have a testimony, remember Jesus, and choose the right. I hope I can teach you (since your dad won't be very good this) how to dance, how to treat a woman: be a gentleman, remember the little things, to go on dates (not just hang out). Now your dad and I can both teach you about sports especially basketball, but other sports too like soccer, volleyball and any others that interest you. You're already trying to dribble a basketball so I'm sure it will be so fun to play together as a family. Hopefully we can both remember all the school subjects too so we can help you learn about math, science, social studies, history, geography, spelling and more.
I hope you always remember how much your dad and I love you. Your grandparents love you. Your uncles love you (hopefully they will get some aunts to love you too). All of your family loves you. Most importantly your Heavenly Parents and Jesus love you. Always remember that you are a child of God.
With all my love,
Mom