I hadn't participated in a while so I checked the questions for this week and really liked them so here are my answers! =D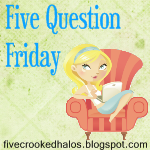 1. Take your pick...date night, girls night out, or night out alone?
First Choice:
DATE NIGHT! Probably because it's so hard for us to actually get a babysitter. I'm oh so willingly. Little harder for my husband and our son is super shy with many people. How I wish we could have family around.
Second Choice:
Alone time. Then I actually could get scrapbooking done and not worry about cleaning everything up right away if my son wakes up.
Third Choice:
Girls Night probably because this is the easiest one for me to put together. I have movie nights with friends every so often plus we get together for play groups. I guess it would be nice to go shopping with the girls without babies though.
2. Can you touch your nose with your tongue?
NOPE....I'm better at getting close to my chin then my nose though.
3. What is your favorite flower and why?
Rainbow bouquet of roses. I love all the pretty colors. My parents gave me a boquet for my high school graduation so now I'm hooked on them. (This bouquet is good, but mine had blue roses too)
I like bright colored lilies and gerber daisies too, but never know the exact name of the lilies I do like.
4. If you could go back in time, what advice would you give yourself?
This is a hard one, but the first thing that came to mind....Realize that I'm beautiful sooner which would have helped me with my self-esteem and make me a better friend and more attractive to others. Finally realized that I'm beautiful just this past year no matter if I'm all decked out or if I'm just in scroungey clothes with no makeup.
5. If you won the lottery, what is the very first thing you would do?
Be totally shocked. Then figure out a budget on how we could get a house, another car, save a bunch and learn to invest, send money to family in the Philippines and then maybe celebrate by buying some things we wanted.