"The month of May will feature my (Memories by Christine) engagement/wedding series! I'm having 2-3 blog hops a week throughout the month so we can all share memories of our special days. Even if you aren't a scrapbooker, you can still participate! Bridesmaid and maid of honor stories are welcomed too!"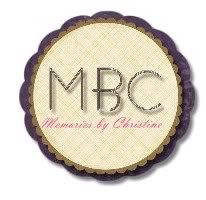 Bridal Showers and Bacherlorette Parties:
Well I didn't have any bachelorette parties - they're not as popular with LDS culture. Plus I only had 2.5 months from the time I was engaged to married.
I was fortunate though to have 2 bridal showers in such a small amount of time.
December 2004
For my
first bridal shower
, my awesome aunts threw me one at Chandlers Restaurant/Club. (Delicious Food) They sure spoiled me.
For my scrapbook layouts, I used green anf pink because in all my pictures, many people were wearing those colors.
The left layout was made at a Close to My Heart class/party. I hated it at first because it was all pink. Pink isn't my favorite color, but I'm more accustomed to it now. To add some style to the layout, I used a red pen to trace around words and shapes to make it stand out more. Before it was all faded and bland to me.
These are pictures of me opening presents. Also one of my most embarassing moments occured during this part. I didn't have a head table at my bridal shower because all I had was a maid of honor and no bridesmaids. I had lots of friends, but not many girls that I was super close to that lived around town (I had more guys friends). Anyway wearing a skirt and opening presents with nothing to hide me. Yeah....I got the pictures back. My mother had taken pictures of me opening like every single present....now the embarassing part, half the pictures you could see up my skirt! Ahhh! My own mother didn't even realize it, but I'm sure others did. I don't remember any signals to say close your legs! Maybe I was blind.
The pink left layout needs some sort of title in the center or something. Still haven't figured it out after all these years.
I love the right layout. I used when of my gift bags from my shower on it. Those hearts are using foam stamps and paint, I think.
My maid of honor wrote the list of who gave what.
My friend made me my fake boquet (even though in a temple marriage, there's no Rehearsal) My other friends helped get the presents and put them away.
My table had all my friends at it that could come. I was barely 20 years old. The other tables were "the adults." I sure used to use tags a lot back in the day when I first started scrapbooking. They were so cheap and easy to use and great way to journal.
Again more tags are used. I love "My Moms" layout. I thought I was so clever.
The right layout, bottom left picture are my awesome aunts who spoiled me rotten with not only hosting a fabulous shower at a wonderful restaurant, but they gave me tons of gifts. I would open a present and it was say from the Sues (both their names are Sue). Present after present said from the Sues. In LDS culture, I don't think there's a lot of extravagant large gifts. Plus Mike and I are way simple and were going to college so we didn't go for the expensive stuff, so my aunts said they spent the same as they did on my cousins. Still I was way shocked at how much they gave me.
2nd Bridal Shower - hosted by another awesome lady, one of my best guy friend's mom at her house.
I invited many of those who couldn't make it to my first one or those who didn't make the guest list on the first one because I was limited to amount of guests since it was at a nice restaurant. A lot of church friends. It was more laid back and with games. I love playing games!
I used to be way more creative with ribbon in my beginning scrapbook days.
Did you know I was the maid of honor at my friend's wedding. Her wedding was the day before mine! Crazy huh! Well I hosted her bridal shower at one the home of another wonderful lady, she was one of our teachers when we were in YW. I played tons of games at that one. Like name all the objects on the tray. Write their addresses down on an envelope and do a drawing. That way she didn't have to address any thank you's later. There were a couple other games, but I can't remember what they were.
I also co-hosted a small shower for a co-worker since she was out of state for college. We did the TP dress idea. We made fruit pizza - yum! Can't remember what else, but it was a really small event.
Since I couldn't be in town for my best friend's shower (I just had a baby, but I made it to the wedding!) Plus I made up for it by decorating her and her husband's hotel room ; D. Anyway to help with her shower even though I couldn't be there, I made all of her shower invites. I created something on word and then glued it on some purple cardstock (one of her wedding colors) and added some rhinestones to each one. They looked amazing. Why I didn't take picture - no idea! Usually I'm way good at that.