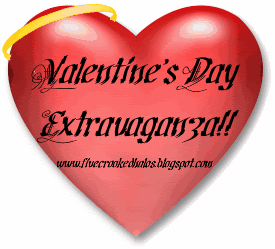 Participating in Mama M's Little Blog Hop all this week in honor of Valentine's Day next week. You can see what she has planned each day this week here and participate.
Background info:
I'm LDS (Mormon) - most don't date until they're 16. Young men at 19 serve a mission
for the Church which they pay for themselves to spread the gospel to others.
I liked my husband ever since I was 14 almost 15 years old. I don't remember the exact day I met him, but we were in the same ward at church since I joined when I was 10 almost 11....I liked his 2 younger brothers first. =D We were in high school: my freshman year and his senior and just one day (September 1999) - he just looked so hot! He had a green plaid shirt on that matched his wonderful green eyes. He was the first guy I liked first based on personality- not looks - looks came later. Man I must have been blind at first though.
I think he liked me, but everyone said he didn't so I didn't try to do anything about it. Then about 7 months later (April 8, 2000) he ended up breaking my heart by singing to this girl that I despised my favorite song at the time: Lonestar's Amazed.
Fast forward - I got over him breaking my heart, but couldn't get over him - we became closer friends just hanging out at church activities and stuff.
Our first date came into play on my 16th birthday party which was on Saturday, October 21, 2000. My birthday was on Sweetest Day (a newly made up holiday) this year so maybe I'd get lucky.... Anyway I was sitting by the computer talking with some friends at my party about how 16 isn't going to be cool because I probably won't get asked to go on any dates and that being 5 years old would probably be better. Well Mike overheard this (he's 19 at the time) and said I'll go on a date with you. I of course was shocked and I just replied with well you'll be going on a mission soon and can't afford to take me on a date, you should be saving your money. He was like it won't cost that much and I said ok. Later I get his e-mail address.We end up e-mailing each other a lot and set up a date.
Onward....I had to look back at our e-mails (yes I still have our e-mails from that long ago; I printed them all out...I know kinda lame, but it's been wonderful reading them again) to remember some of this info. Through our e-mails we set up a date to see Meet the Parents at the theatre and eat at Baker's Square...typical dinner and movie. We go on a double date with our friends: Todd and Melanie. I run out the door with Mike as my mom comes home from work...she asks where I'm going and I tell her quickly that I'm going on a date (...yeah I know bad, but my parents totally trusted me especially with church people). I get in the car and hear Mike say darn because he sees Todd hold the door for Melanie and he forgot to get my door...after that he always got my door. We eat at Baker's Square first. I insist on paying for this and all he gets is fries (I'm not surprised now...that was one of the main foods he ate before his mission: he didn't learn to like pizza, chicken, beef, etc. until during the mission) and I probably got chicken fingers. After dinner we head to Loews Theatre to see Meet the Parents (apparently Mike had already seen it...I told him we should have picked another one then). Once at the theatres I had a small problem...my bra came undone (it was one of those that clasped in the front)...I grabbed Melanie and I go in fix it in the bathroom. Then we see the movie; I can't remember if we got popcorn or anything. I don't think we did so Mike wouldn't have to buy more stuff...I didn't want him to spend a lot since he needed the money for his mission. After the movie he drops me off...he walked me to my door...we hug and say good-bye. It was great.
Now that I look back he had to have liked me at least a little. I mean what 19 year old good church going guy would ask a 16 year old on a date?
Oh and this date is so easy to remember because it is also my brother Jay's birthday...2 weeks after my birthday.
We later went on another date February 10, 2001 - my high school Turnabout Dance - girls asks guys. I asked him.
2 months later - April 8, 2001 (ironic huh?) we find out we like each other in return - days before he leaves on his mission. We write to each other during those 2 years. I try to like other guys and go on other dates. He comes home April 2003. We went to my prom May 3, 2003 (more about that tomorrow). I go off to college August 2003 while he stays home to work - more long distance dating. We get married, sealed for time and eternity December 31, 2004 (more about that on Wednesday). I was 20 and he was 23. Now we've been married for 5 wonderful years and have a 1 year old son.
My husband of course doesn't remember like anything before we were married...so frustrating! He always says I'm embellishing the story.