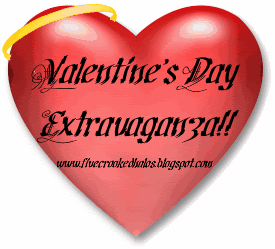 Today is supposed to be about The Man's Biggest Romantic Screw-ups.... well my husband still hasn't learned. Those I've read that have linked up so far are pretty lucky that their mess-up.
First Mess-Up:
1 Year Dating Anniversary - Our anniversary was during the week... I got all dressed up: did my hair, make-up and had nice but casual clothes. Then I waited and waited expecting my man to show up.... we lived 40 minutes away from each other at the time...he never showed up. So I called my best friend to call him (I was only 19 so don't judge me)...find out he wasn't coming that night. We never planned to get together on our anniversary - I thought it was a given. He said he was coming on the weekend....I was so bummed. I like to do things or at least be acknowledged on the actual anniversary. Well we met that weekend and he gave me a opal (my birthstone) necklace.
1st Wedding Anniverary:
I planned it - dinner reservations and had him write me a little love note while I wrote him one
2nd married Valentines:
he tried - bought me a card and 7 lb. bag of Snickers - LOL
2nd married Christmas:
he didn't buy me anything
2nd Wedding Anniverary:
nothing
- we hung out at his parents' house (Our wedding anniverary is New Year's Eve -you'd think that would make things easier)
3rd married Valentine's:
he wrote me a poem, his first
3rd married Christmas:
he did awesome - I gave him a whole list of things I'd want for Christmas and he even surprised me with things that I didn't ask for - LOVE that the best!
3rd Anniversary:
I planned, but it was our best anniversary yet - he wrote me another poem
4th Anniversary:
nothing
: we just had our first baby
my most recent birthday:
he drew me a picture - he's a talented Illustrator so it was very appreciated
5th Anniversary:
nothing
- well I guess we went out to lunch with our toddler, but again I planned it
I would just appreciate him to plan things or surprise me. We've been in college all of our married years (thankfully he just graduated in December - I've been graduated since 2007) so we haven't had a lot of money now especially that we have a child....but I never ask for things that cost money - just a sweet note, card, poem would be great.....
In his family, they just don't care about birthdays, holidays, etc. that much - if they didn't get anything, it wouldn't matter to them....
I hate thinking that I might possibly surprised and then I don't and then I'm sorely disappointed - thus to not feel that disappointment, I plan things.
This Valentine's Day I 've planned a big party for Saturday night with a bunch of married couples. We'll be having a potluck dinner, scavenger hunt, "newlywed" game plus prizes (thanks to those who have traded or donated things for my party!)
Maybe he'll remember Mother's Day. We're still learning in our marriage. It's never perfect; it's hard work and a lot of love.